Sem;colon
, it shows only one device name/ID...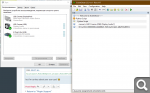 but I'm curious about your use-case?
Nothing special... I have the AV-receiver and DAC, and I use Harmony universal remote to power on/switch all devices to the necessary modes. Cause PC should wait, until audio device will be ready to work, last year I make small script - which tries to switch default audio device to DAC (for example) and then checks if there DAC is the default audio device. If it is - EG goes to the next tasks. if not - EG will wait some time and then will try to switch again. Thing that I don't like is that switching are first and check the second, I would prefer to check (is DAC ready to switch) at first, and only if it in the list of audio devices, go to switching...